In customer service, implementing best practices will elevate the support experience with quick and effective responses to enquiries. Implementing great CX helps businesses exceed customer expectations, drive loyalty and keep the cost to serve as low as possible.
This article will cover the following best practice topics:
Elevating Agent Skills & Processes
Implementing Knowledge Management for Agents and Customers
Macro Management & Utilisation
Customising your Zendesk Theme
Leveraging the Power of Personalisation
Setting up Agent Views right
Providing Seamless Customer Experiences
Streamlining the Agent Experience
Measuring what counts with Reports & Metrics
Keeping Security Tight
Elevate Agent Skills & Processes
Comprehensive training and continuous improvement in agent processes ensure that your support team stays sharp, adaptable, and always ready to deliver exceptional customer experiences.
TRAINING: Develop proactive and comprehensive training for new starters, including technical skills, company policies, best practices and training to individual needs.
FEEDBACK/DISCUSSIONS: Encourage regular team discussions and feedback sessions to identify areas that need improvement and brainstorm innovative solutions.
PRAISE: Celebrate individual/team success whilst continuing to support and boost morale.
KPIs: By setting performance metrics and tracking key support indicators, you can measure agent efficiency and identify potential bottlenecks.
COLLABORATION: Use collaboration tools and internal knowledge to capture and share emerging issues and/or proactively resolving future issues.
Peer Reviews: Everyone in your customer service team has a stake in delivering great CX. Why not set-up peer reviews where agents are asked to review 5-10 tickets per month of their peers and provide feedback. This method gets buy-in for the entire team.
Knowledge Management for Agents & Customers
Knowledge management is your secret weapon for excellent customer service to support both internal agents and customer self-service. By building a comprehensive knowledge base, you empower your users with a treasure trove of information for self-service, and provide consistent and accurate issue resolution. Transform your agents into support heroes!
DRIVE CONTRIBUTION: Encourage and reward team members who contribute to building your knowledge base.
CONTENT MANAGEMENT: Develop your content management processes including defining roles for reviewers, approvers and publishers. This drives continual improvement and delivering high quality content.
REPORTING: Run regular reports on your knowledge performance including self-service rates, agent linking to tickets etc. to identify and address gaps.
ARTICLE TEMPLATES: Build out your knowledge templates to keep a consistent format. This helps to make articles more readable and ensures you have captured everything needed to solve out enquiries.
CREATE AN INTERNAL HELP CENTRE: Don't use your knowledge base for just your customers. Keep all your internal process and work instructions in the same library and limit the access of internal articles to agents and managers.
UTILISE AI: Use AI to assist in content generation.

Macro Management & Utilisation
When faced with repetitive queries, use macros to your advantage! Streamline the workflow for your agents by creating pre-written responses with a touch of humour, emojis, hyperlinks, attachments etc. Macros will save agents time and effort in having to manually respond to the customer.
Check out more info on Creating Macros here: Creating macros for repetitive ticket responses and actions
Promote self service
Customise your support portal's look and feel to elevate the Customer Experience and give it a personal touch? You can utilise the built-in Copenhagen theme, purchase a pre-built theme from the marketplace or if you have a web savvy developer handy, you can custom code your theme to match your branding. A vibrant and engaging Help Center drives increased usage!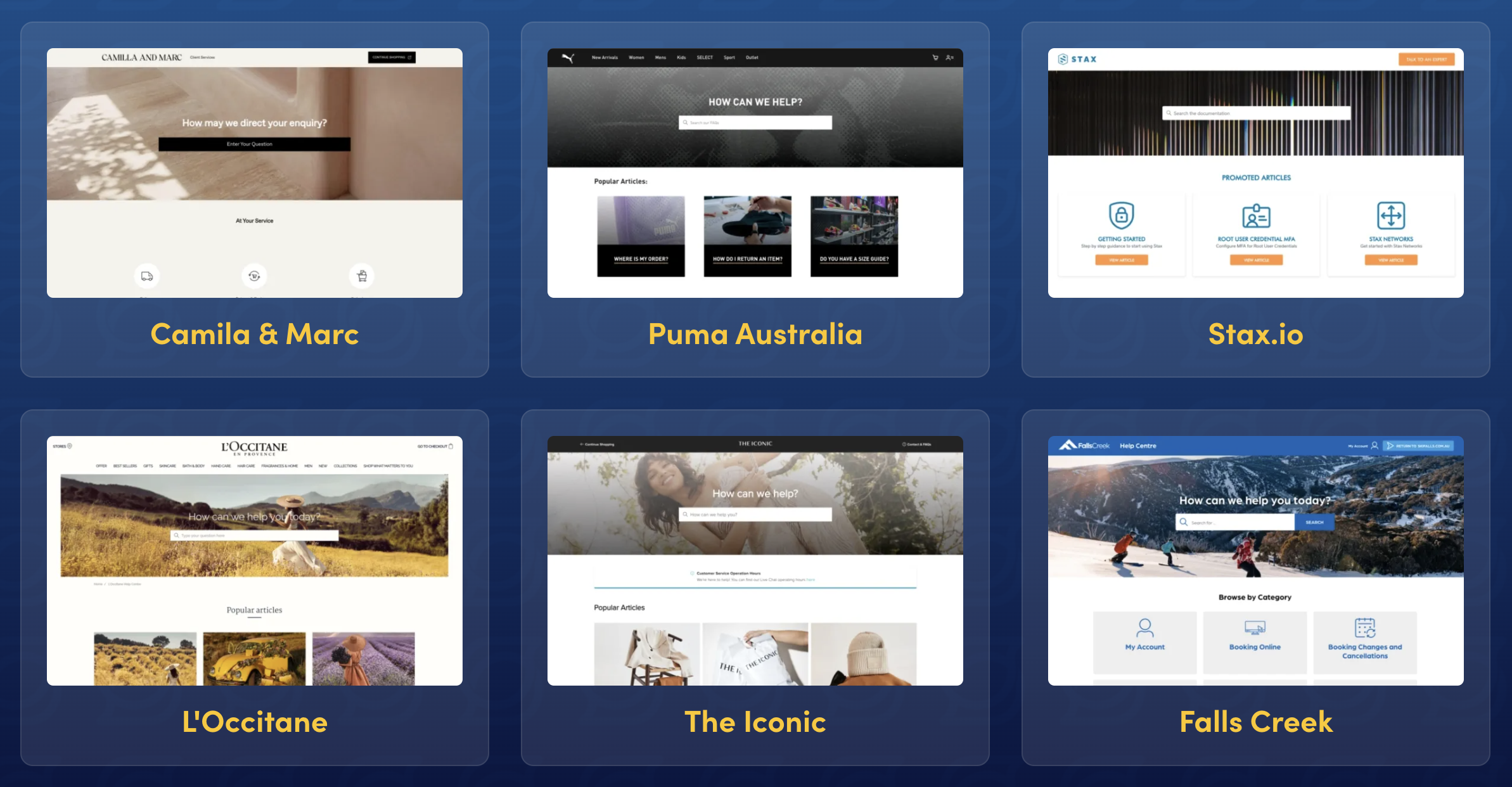 Here's a shameless plug on the SuccessCX Themes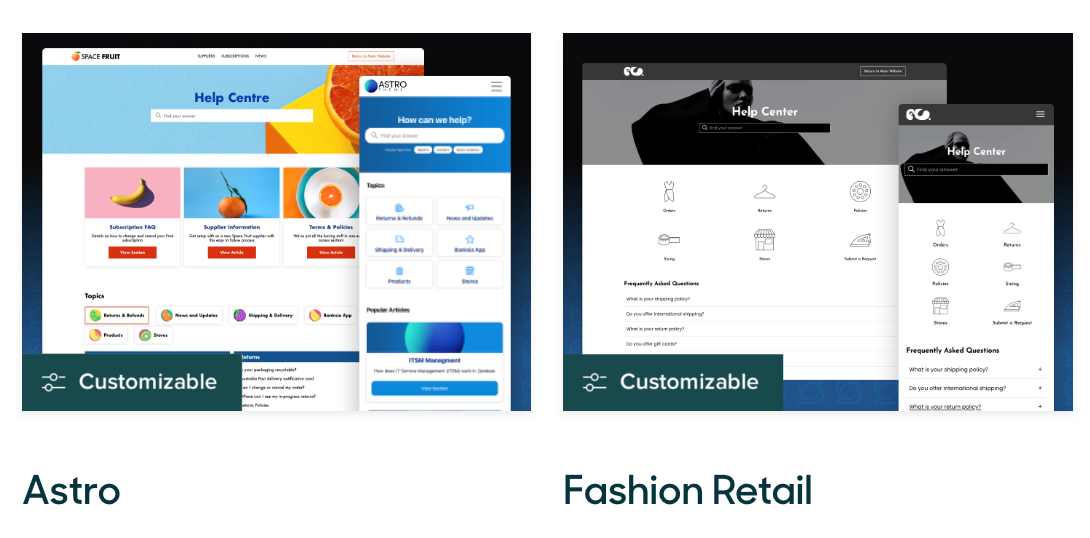 The Power of Personalisation
Personalising the responses adds a delightful touch of human connection to the CX experience.
AVATAR: Agents can add an photo or avatar to their agent profiles. Choosing a friendly and professional avatar, whether it's a cartoon likeness or a professional headshot, humanises the interaction and fosters a sense of approachability.
SIGNATURE: Utilise a global and/or personal agent signature on ticket replies. Crafting a personalised signature further adds a touch of charm.
EMOJIS: Agents can utilise emoji's in their replies to lighten to mood.
GIFS/MEMES: Agents can add gifs or memes to their replies to add some cheerfulness. Just be cautious not to go overboard – you don't want your support portal looking like an internet meme museum.
Agent Views
Views are powerful and yet often overlooked when looking for ways optimise your customer service team. Agent's will spend 90% of their time in views, so it makes sense to align them with the ways your team work.
NUMBER OF VIEWS: Limit the number of agent working views to a maximum of 2 or 3. Agents should know exactly where they need to go to find their next ticket, so the less views you have the more efficient your agent can be.
VIEW COLUMNS: Add the most important columns in the view to give the agent context. The agent can then get a good picture of what the ticket will be about without unnecessarily clicking into it.
VIEW ORDERING: Order tickets by the highest priority - with the highest on top. Ordering by SLA Breach is the best way to do this.
PLAY BUTTON: Encourage agents to use the Play button, allowing Zendesk to serve the highest priority ticket automatically. This may also reduce agent "cherry picking".
UNNECESSARY TICKETS: Remove Tickets that the agent cannot progress in the primary working views. These would include tickets with statuses of Pending and On-Hold.
Seamless Customer Experiences
Build seamless and effective customer experiences using tools like the Widget, Macros and Work Instructions. The new Messaging capability allows you to tailor flows for your customers for best outcomes and reduce the cost to serve.
For example, a customer having a check-out issue might be best handled in a chat (for quick resolution and avoidance of an abandoned shopping cart), whereas a complex account enquiry might be best to be submitted via a form, capturing all detailed information for investigation.
FlowBuilder is the no-code, drag and drop workflow engine behind Messaging that allows you to enhances customer experiences with tailored journeys, instant chatbot responses, suggested articles for self-service, and human chat for personalised assistance. It ensures a smooth ticket submission process, leaving customers amazed and satisfied with exceptional support experiences.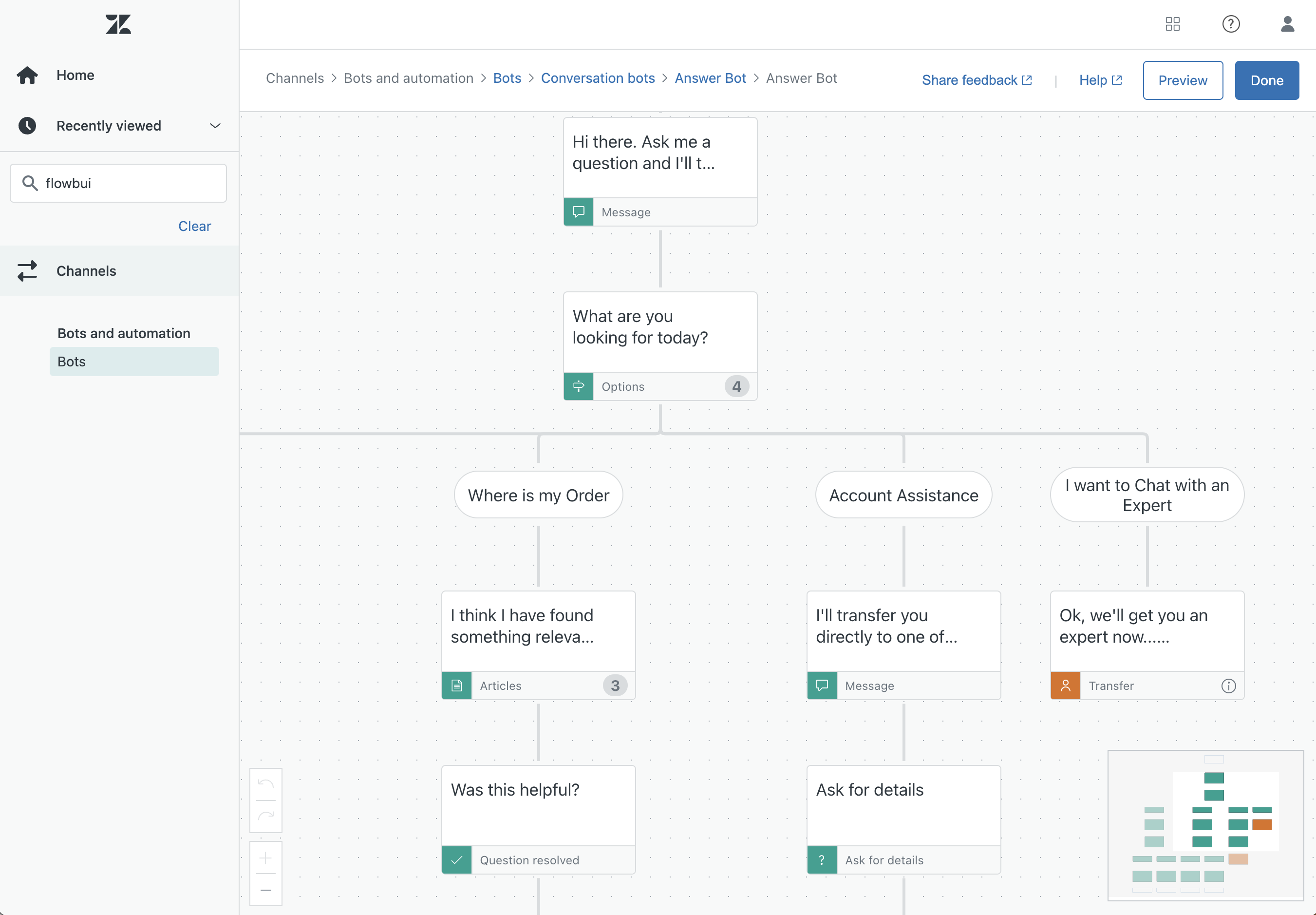 Check out more information on Bots and Flow Builder here: Bot and Flow Builder resources
Streamline the Agent Experience
Simplicity is key for the best agent experience in customer support. Provide only the agent essentials and keep it relevant for the job at hand. Segment all your views, macros, apps, forms, articles and tickets to keep the Agent UI clean and crisp.
Tailored macros, helpful apps, and only the tickets to work on, streamline activities and boost agent confidence and satisfaction, leading to faster response times and higher customer satisfaction. Keeping it simple and relevant ensures support interactions hit the mark every time!
Just like a well-crafted punchline, keeping the agent experience simple and relevant ensures that support interactions hit the mark every time!
Measuring what counts with Reports & Metrics
Using data-driven insights is crucial for measuring customer service performance and identifying areas for improvement, pin-point trends, potential bottlenecks, additional training required or additional resources which may be required. Just as a comedian pays attention to audience reactions, tracking support metrics helps gauge customer satisfaction, response times, ticket resolution rates, and more.
Armed with these valuable insights, you can optimise your support team's performance, tighten up your processes, and deliver top-notch customer experiences. So, embrace the magic of data and let it guide you toward customer service excellence!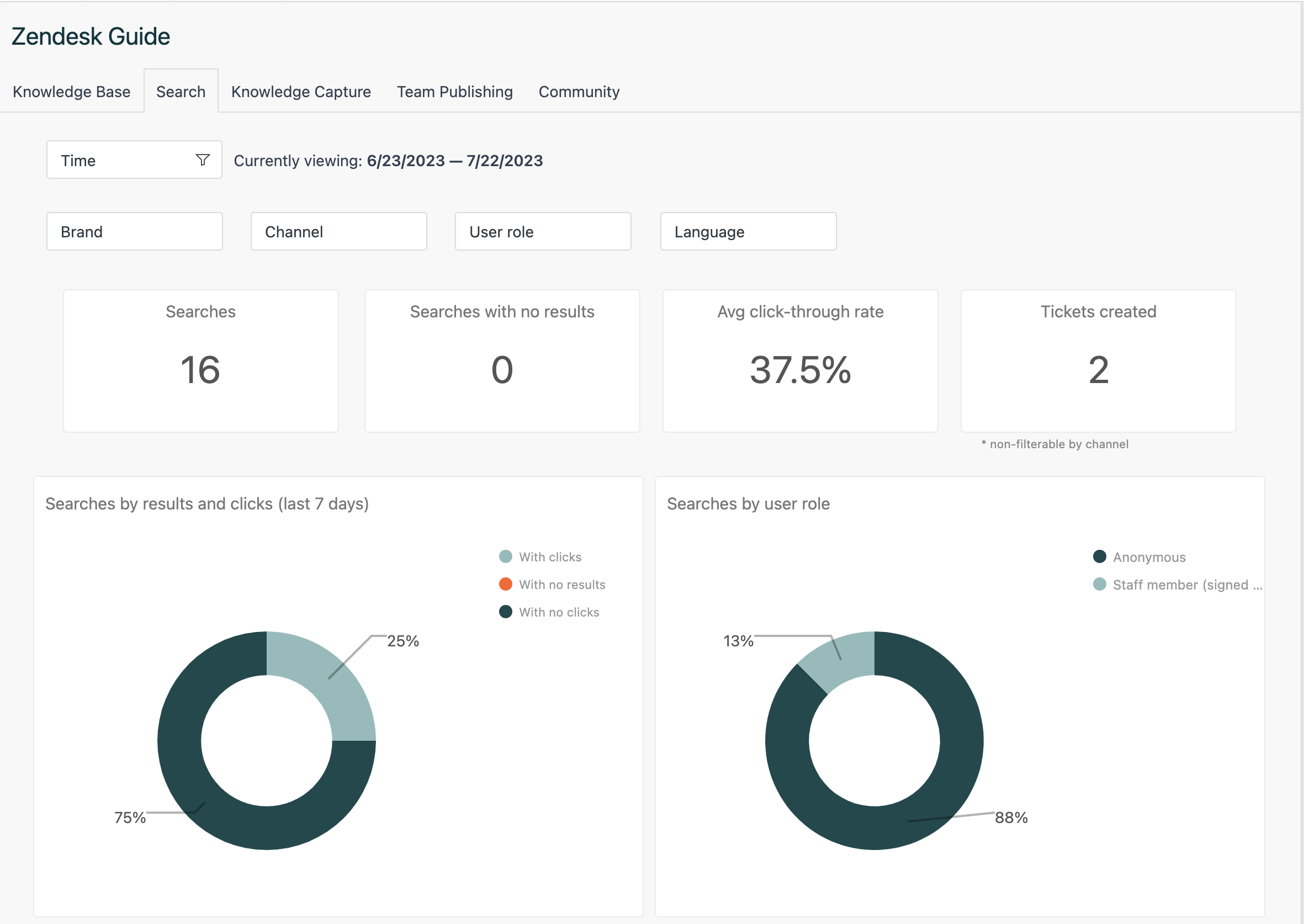 Keep Security Tight
The standard security settings are set to "Medium" which may not be sufficient to ensure you have a secure environment. This setting only requires a maximum of 6 characters for your password and 10 attempts. We recommend setting it to the highest setting that is practical for your business and switching on 2 factor authentication.
On the subject of your Admin roles, we recommend limiting this to only those that need it. 2 or 3 individuals who are formally trained in the platform administration seems reasonable.
Lastly, performing frequent reviews on agents and admins in your platform ensures only those that need access have it. Develop a process for removing any agents who no longer work for the company.
In conclusion
By heeding the guidance of our best practice recommendations, businesses can unlock a treasure trove of benefits in their customer service journey. From improved response times and enhanced agent efficiency to building stronger customer relationships and boosting overall satisfaction, these practices lay the foundation for exceptional customer experiences.