Zendesk delivers on IT Service Management (ITSM) for your business and
will successfully support the tailoring of your ITIL implementation for a perfect fit. ITIL processes run without the typical complexities associated with IT, so you can put your focus on where it counts. With the platform's flexibility and analytics capabilities, the solution truly facilitates continuous improvement - the core ITIL tenet.
Zendesk brings flexibility and collaboration to your teams at scale, allowing a work-from-anywhere approach, with mobile and web-friendly interfaces supporting Android, apple iOS and iPad natively. It has over 150 apps and integrations in its marketplace and has an API-first approach, allowing secure access to the platform and data from external services.
Through the platform's capabilities, the team will run more efficiently and get better visibility on their work priorities. On the customer side, the use of Artificial Intelligence (AI) can offer excellent self-service support with instant suggested answers and knowledge to help solve issues on the fly. The IT team benefits from a workflow that automates and routes enquiries to the right skill level. Service Level Agreements can help automatically prioritise work. And, internal knowledge articles are automatically searched, providing the team with answers directly within the portal.
I would like to summarise here how the ITIL
processes are delivered within Zendesk and how they will impact your business for the better.
Service Request Fulfilment:
Zendesk provides options here on the approach. Firstly, service requests fulfilment can be set up as offerings within the Zendesk Guide, arranged with categories of offerings, which when selected by employees, automatically fills in the details within the submission form and creates the SR ticket that is then routed automatically to the fulfilment team (see screenshot on how a service request can look).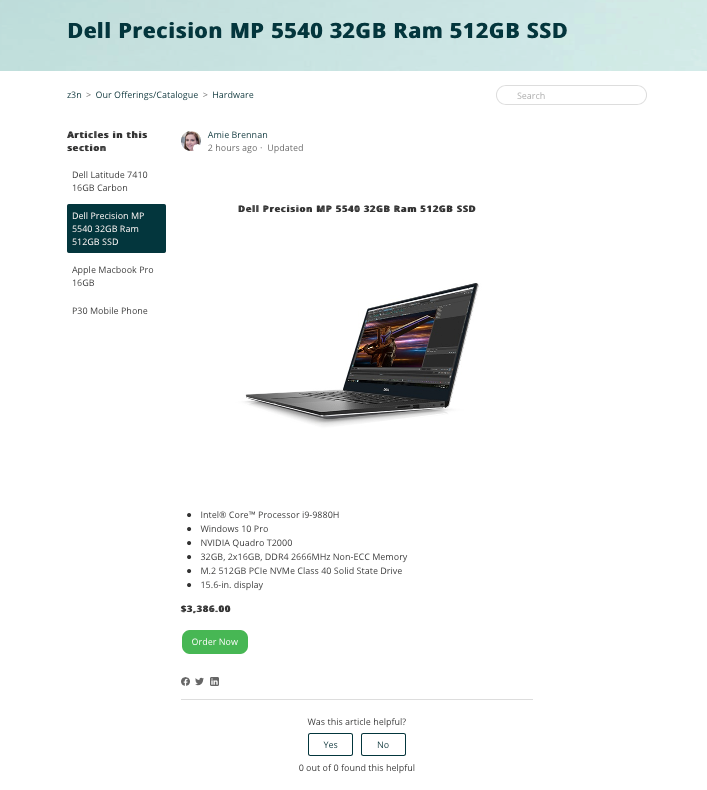 Alternatively, Zendesk can have simple drop-downs on the submission form that are selected and submitted.
We can also build in SOE bundled selections (eg. standard laptop, keyboard, phone, mouse etc all in one standard offering) into one service request, to make it easier for staff to select what they need.

Incident Management: Zendesk Incident Management performs seamlessly, grouping like incidents together, and coupled with Zendesk skills-based routing, can automatically be assigned to the right people who can resolve the issue. Where a number of Incidents have been created related to the same service outage, an agent can manage, update and respond to the users in bulk, increasing your engagement with staff and users and speeding up the time to resolve.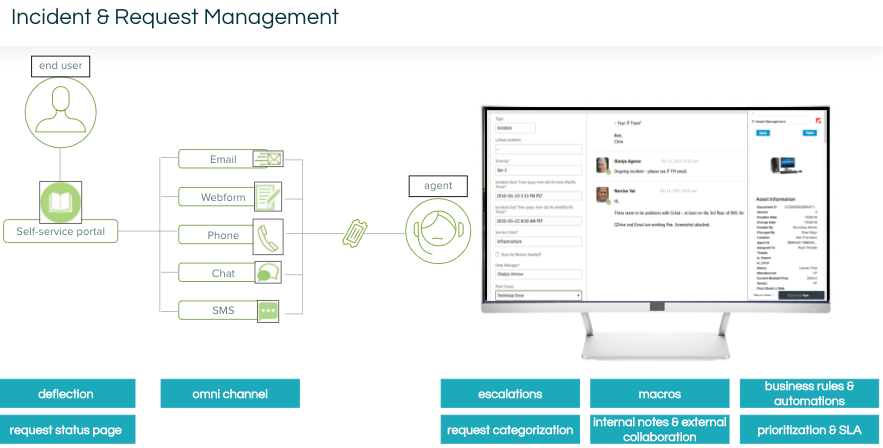 Problem Management: Problem management is a powerful tool within Zendesk with the ability to identify, attach, manage and update multiple incidents with bulk actions. For outages or issues that will take more time to resolve, customers can be updated via knowledge articles that if followed, will provide notification when an update is posted to that article.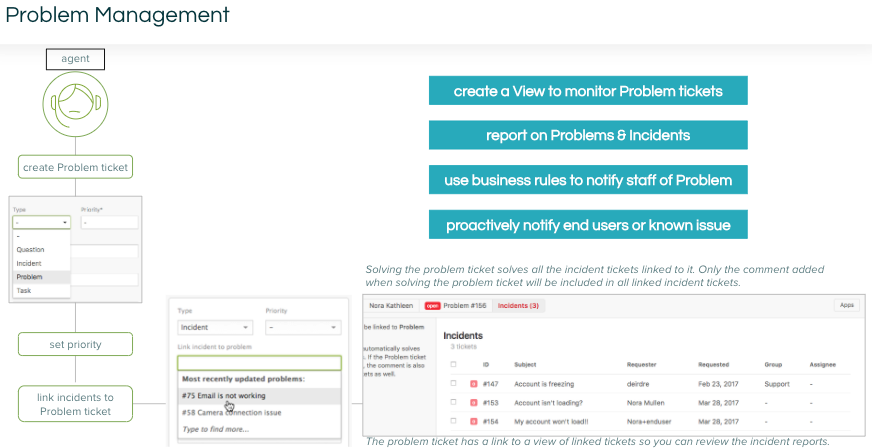 Service Catalogue: Available through Zendesk Guide, detailing your catalogue of services via articles within a service catalogue section. These can be dynamically shown/hidden depending on certain criteria. For example, a member of the executive leadership team may be offered additional catalogue items versus a contractor.


Service Level Management: Available through Zendesk SLAs from the Professional Plan upward. SLAs can be designed based on certain tickets or user conditions (eg. the executive leadership team could be tagged to have tighter targets to resolve) so that you know the right SLA is attached every time. SLAs can also be driven by the customer timezone and will observe business hours, public holidays and other special schedules where needed.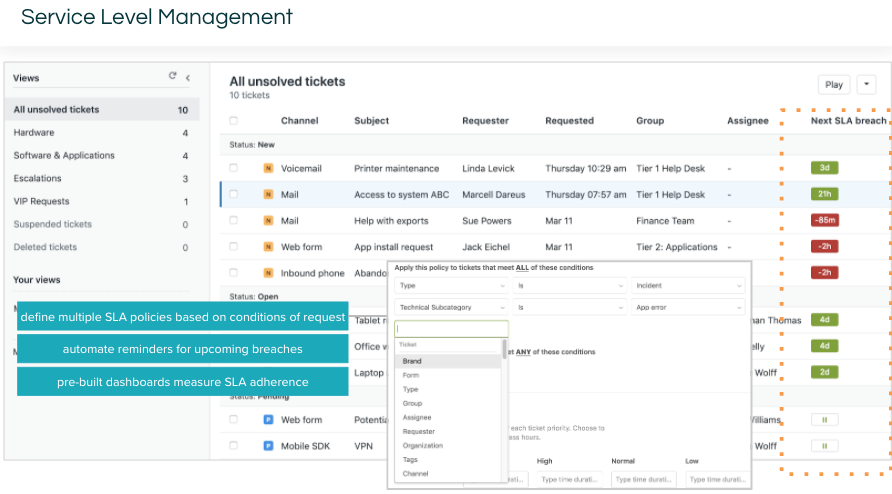 Change Management and Change Evaluation:
Changes in IT infrastructure can be tightly managed to significantly reduce any impacts to your business and IT services. Zendesk Change Management allows you to capture and manage the various change types, identify and capture risks and seek approvals based on those inputs.
Available by utilising the Zendesk Enterprise plan (or Zendesk Professional with the Productivity Pack), a Change form can be configured to capture all the important components of your change including the change plan, timelines, resources required, risk profile, back-out plans etc.
The work to release the change can then be managed and assigned through templated tasks, providing a well-managed and documented end-to-end solution.
Sweethawk apps integrated with Zendesk will enhance the experience with approval, calendar, and checklist capabilities so that your changes follow the discrete process every time, offering consistent processes, the ability to audit, and low risk to the business.

Knowledge Management: Available through Zendesk Guide supporting Knowledge Centred Service using the KCS app. Automated searches of content assist staff in finding the answers to customer issues quickly. If the content is available for the end-user to access, agents can provide those answers and encourage staff to self-serve.
KCS gives the IT Service Management staff the experiences they need. In-portal answers without the need to "Swivel-chair" to other repositories. If knowledge and FAQs are stored elsewhere, Zendesk now has the ability to search and surface on these repositories, delivering search results in one convenient location.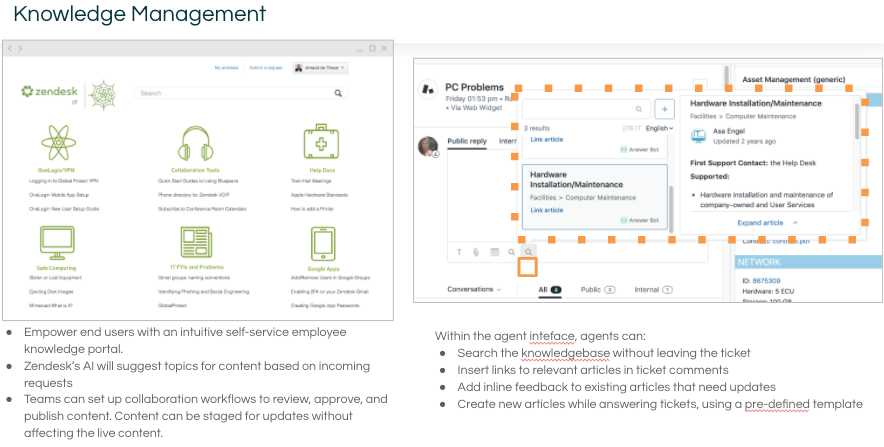 All in all, Zendesk not only provides end-to-end capabilities supporting IT Service Management and ITIL processes, but it also delivers great agent and user experiences encouraging continued use and ongoing improvement.
The team at SuccessCX are an official implementation partner of Zendesk that has successfully delivered over 300+ Zendesk projects to customers around Australia and New Zealand. We pride ourselves on delivering excellence to our customers, with a focus on delivering speed to value for the business.
Love your Service Desk!