Popular Blocks are manually set tiles that allow you to highlight key articles, sections or any important links to your user on the Homepage.
Popular Blocks are different to Promoted Articles due to the fact that they are fully customisable. They work great for articles, particularly ones which are viewed often or generate tickets. There are 3 popular blocks available to use and it's recommended that all 3 are used.
This article covers the following topics:
Available settings

Updating Popular Block settings
Available settings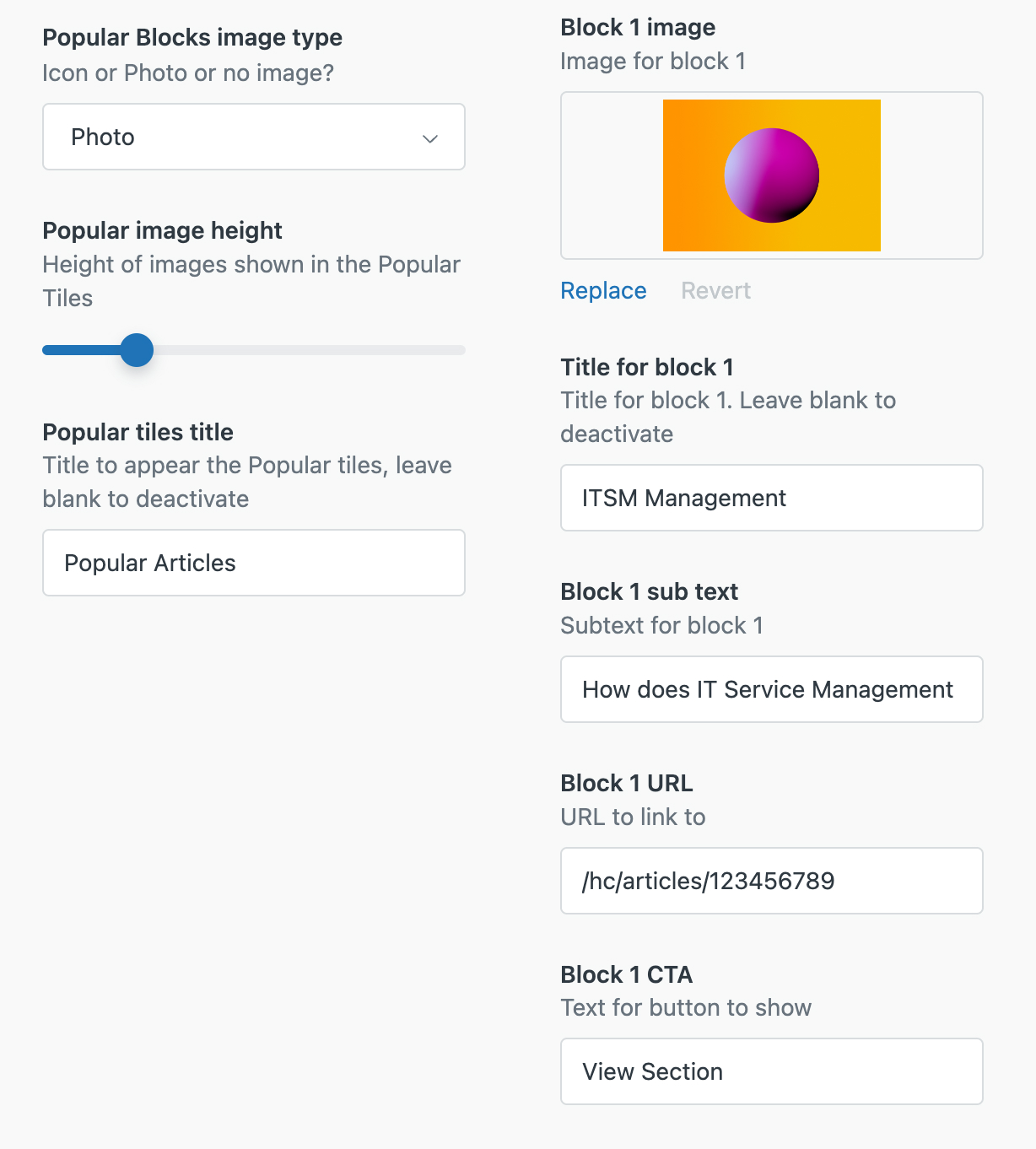 Popular Blocks image type: Choose the style of the image. Using photo will allow the photo to cover the entire width. Icon will center the image, which is better suited to icons.
Popular image height: Simply drag the slider to the right to increase or to the left to decrease the size of the image height. Allow the preview window a moment to refresh the modifications
Popular blocks title: The title that will appear on all of the blocks to clarify what the section is.

Some suggestions for this are Popular Articles, Important Links, Most Viewed Articles etc.

Block image: Upload either the photo or icon here.

Ensure you are using either an SVG or a compressed image.
For more information on best practices for images, see this article.

Title: Leaving the title blank will deactivate the block from being used
Subtext: This is a great place to enter a description, elaborating on what the block is about.

Aim to keep these short, and no longer than one sentence.

URL: The link connected to the block. For links within your help center, the url should start with /hc/. You can alternatively enter the full URL, when doing this ensure it starts with https://
CTA: Call to action text for the Button. For instance, when linking to an article use 'View Article' or to an external login portal 'Login'
TIP: If you're wanting to link to your contact form, enter in the following as the URL:
/hc/requests/new
Updating Popular Block settings
In Guide, click the Customize design icon () in the sidebar.
Click Customize in the Astro theme to update it. The theme page opens.
In the Settings panel, click 🏠 Popular Blocks.