The Search Hero block is visible on the homepage and allows users to search for content on your help center.
This article covers the following topics:
Updating the Search Hero settings
Available settings
Settings glossary
Other settings
Updating the Search Hero settings
In Guide, click the Customize design icon () in the sidebar.
Click Customize in the Astro theme to update it. The theme page opens.
In the Settings panel, click Search Settings.
Available settings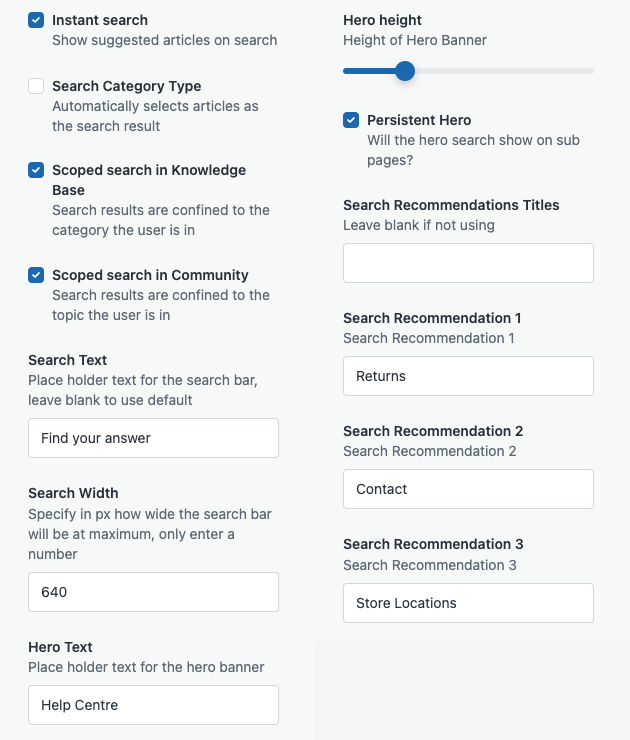 Settings Glossary
Instant Search
This controls whether the automatic pop-up will display when you begin typing into the search bar.
Search Category Type

This bypasses the default behaviour of displaying the 'Type' of search result and instead assumes there are only articles within the Help Center.

TIP: Turning this on is recommended for Help Centers which only have articles.

Persistent Hero
This changes the Search hero to be displayed only on the home page, for all other pages only a shorter version of the Hero image will be displayed
Search Recommendations
Search Recommendations are manually set recommendations of search terms. These should be based on commonly searched words to make it easier for the user to display results. A great source of truth for commonly searched terms is within Explore under the Guide Dashboard.
Other settings
Text Color: The color of the Hero text shown in the Search Hero is controlled within the 🎨 Colors panel, under 'Hero title text color'.
Image: The image is applied in the 🖼 Images panel.
Image Tip: When choosing an image, verify that it works well as a background image. Ideally, choose something that has clear space in the center for the search bar and isn't too distracting.